Our work > CarTracker Pro
CarTracker Pro v2.1 - iPhone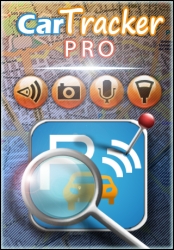 You don't remember where you parked your car? There is an iPhone application for that!
This invaluable and innovative help will become your ally every day. Whatever the transport you use, you'll easily find its location.
Several tools are available to simplify your search:
Geotagging your vehicle,
Easy map navigation,
Ability to refine the vehicle's position by moving the icon on the map
Record voice notes to clarify the location of your vehicle (eg facing the bakery "Au Bon Pain")
Ability to add a photo taken by you,
Sharing the application with your friends via email or Facebook.
Augmented reality to find more easily your vehicle. Available with iPhone 3GS and more.
New and innovative, the parking function automatically reminds you the end of your parking time. The notification service is used to warn you about the end of your parking time even if CarTraker is not launched. No more tickets!
Augmented reality available on iPhone 3GS and more, you will see a live direct view of your vehicle's position. Just look your screen and follow indications. The distance between you and your vehicle is also displayed in real time.
CarTracker Pro do not display any advertising banners.
Find easily your vehicule by using your iPhone :